Κυριακή 13 Ιουνίου 2021

στις 12.00
Bad News – Επεισόδιο 45, Μάιος 2021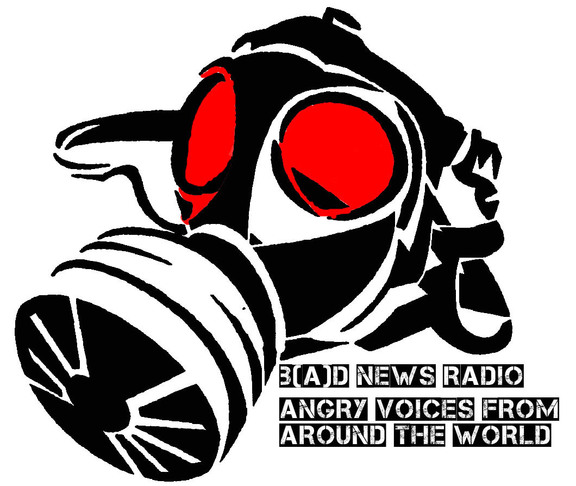 Αυτό το μήνα ακούτε το 45ο (Μαΐου '21) ηχητικό από το B(A)D NEWS, ένα δελτίο αντιπληροφόρησης στα αγγλικά, από το διεθνές δίκτυο αναρχικών και αντιεξουσιαστικών ραδιοφώνων, που μεταδίδει ειδήσεις και κινηματικούς αγώνες απ'όλο τον κόσμο.
ΚΑΘΕ ΤΡΙΤΗ & ΣΑΒΒΑΤΟ ΣΤΙΣ 15:00 ΚΑΙ ΚΑΘΕ ΠΕΜΠΤΗ ΚΑΙ ΚΥΡΙΑΚΗ ΣΤΙΣ 12:00
Welcome to the 45th episode of our monthly podcast, this time put together in Berlin. Every month we try to bring you the Bad News for the state and the capital from different places in the world. We broadcast this to show that our hearts and our thoughts are with all our friends who are in a constant fight with oppression but still are trying to organize their communities in solidarity.
https://ia801406.us.archive.org/10/items/bad-…
Download it HERE (Length: 1h 20min.)
In this episode we will hear contributions from:
Frequenz A: On the current uprising in Colombia
The Final Straw: Interview with Palestinian Filmmaker and activist Yousef Natsha
A Radio Vienna: Callout for international solidarity on June 11th
Crna Luknja: Interview from sister radio collective show Kilavo Seme
A-Radio Berlin: Remembering Josef Selnik,a romnja antifascist also known as Black Partisan, from Czech Republic
Frequenz A: On a repression case in Russia
And the music in this episode comes from Alice Dee and Mother Tareka.